Make Your Website Adapt, Not Your Users.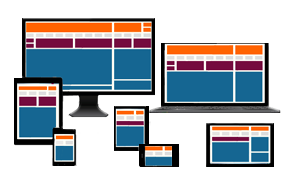 Our designs fit all screen sizes & resolutions.
Responsive web development is the concept of developing an interactive design with flexible layouts that adapt according to your user's device and actions, automatically. Making a website responsive does not consist of reducing fonts and scaling photographs, it's about redistribution and content consumption to fit all devices, all browsers and all platforms. .Com Advertising creates successful, responsive web projects for ALL clients, the first time.
Your customers are mobile. Are you?
Did you know that there are currently 5 times as many phones in the world than computers, and more local searches now happen on mobile devices than desktop computers? Mobile browsing is at an all time high, with new devices being released almost daily.
Imagine…
Your customers visiting your website on their smart phones, and sent directly to a user-friendly experience, presenting your business the way it's meant to be seen. Clean. Quick loading. Easy-to-read. Full interaction including click-to-call, live map directions, photos, news, upcoming sales and events.
Stop chasing devices.
You need one website, created to deliver an optimized experience on any device.
It's our specialty.
.Com Advertising produces cost effective, professional web solutions that give you the edge on your competition.
.Com Advertising Associates, a Complete Internet Solution Company Since 1999